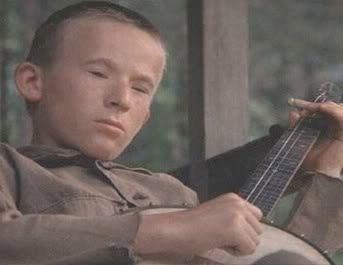 The Deliverance Mass
And their altar boy is pictured on the right

That's right, fellow Bloglodytes. We now have a "
Bluegrass Mass
". Is there a connection between Deliverance, the bishops covering up homosexual scandal after homosexual scandal, and squealing like a pig? I think not.
Give a listen to this joke of a "
hymn
", then remind yourself that the reason
soooooo
many priests and bishops are against the Traditional Latin Mass is because it's so "divisive".
Yeah... right. And The Hee-Haw Mass would be
so relevant
anywhere on earth with the exception of the loonier parts of Appalachia. Yeah... right.