And Here's Another!!
I think it's time for a contest
WARNING!! Crude Marine Corps Humor And Harsh langu... blah, blah, blah.

Just a couple of weeks ago, I posted that the below was e-mailed to me, and I've since penned the now infamous
2009 Federal Government Spendulus Application
.
Well, by golly... I just noticed this lil' gem as I was surfing the net. I think it's time for a contest... don't you?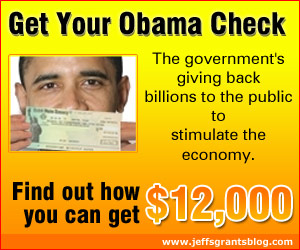 The Top Ten Reasons Bucket-Head Is Holding A Guv'ment Check In Front Of Him;
1. "Ya think anyone notices I'm copppin' a feel off the Statue of Liberty? Ooh, la la! You French chicks are so sexy!"
2. "
Sniff, sniff
. Smells like someone else's money.
Lick, lick
. Tastes like someone else's money.
Touchy, feely
. But it's in my hands. Must be
my money
."
3. "If I eat enough of these damn things, I really will be able to shit money everywhere."
4. "Great! Now no one will know it's really me screaming
'Allahu Akbar! I keel you all!!
'"
5. "Hmm... I wonder why all the writing on the back is in Chinese? Interesting. But I'll worry about that tomorrow."
6. "All these will I give thee, if falling down thou wilt adore me."
7. "Ohhh... there's that
dreamy
Chris Matthews! I wonder if he can see the tingles all over my body?"
8. "How can I be broke? I still have blank checks!!"
9. "Hooray! Massa Soros gived me fav dollahs fo' bein' a goood lil house niggah an' doin' as I wuz tol'!"
10. "How's that old saying go? 'The check's in my mouth and I promise not to... something 'er other... in the mail'"? Is that it?