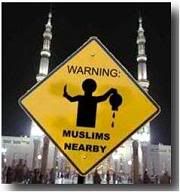 You Do The Math
There are 1.6 million muslims living in the UK
From
The Times of London
13% of British Muslims think that the four men who carried out the London Tube and bus bombings of July 7, 2005, should be regarded as "martyrs".
7% agree that suicide attacks on civilians in the UK can be justified in some circumstances, rising to 16 per cent for a military target.
16% of British Muslims say that while the attacks may have been wrong, the cause was right.
2% would be proud if a family member decided to join al-Qaeda. Sixteen per cent would be "indifferent".