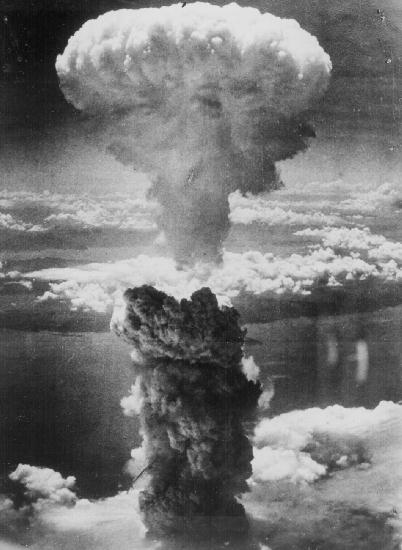 Atomic Bombing of Japan
Can Catholics say it was moral?
Without a doubt, I say yes. Here's some of my rationale;
1. In an invasion of the Home Islands, U.S. KIA estimates were approx 1,000,000.
2. In an invasion of the Home Islands, British Commonwealth KIA estimates were approx 1,000,000.
3. In an invasion of the Home Islands, Japanese civilian deaths from famine alone were estimated at approx 5,000,000.
4. During the invasions of Saipan and Okinawa, Japanese parents killed their children by the hundreds (some estimate thousands). Then the parents would commit suicide themselves. What would happen during an invasion of the Home Islands, where millions lived?
5. Hiroshima and Nagasaki were far from "innocent" targets. Both were centers of war industry and war transportation (valid military targets). Hiroshima was also slated to be the HQ for the Japanese defense on the Southern Front (Operation "Getsu-Go"; Japan's plans for defense of the home islands). when the Allies invaded (Operations Down Fall, Coronet and Olympic).
6. Hiroshima also had thousands of soldiers stationed in and around the city. Hiroshima was also the HQ for the 2d Imperial Army. Again, making it a valid military target.
7. The entire nation of Japan was girding for armed combat. If you thought that the German "Volkssturm" units (little boys and old men who fought the Red Army to the death) were tough, wait until we met the Japanese Home Guard, bushido tradition and all. And yes, 9 year old little Japanese boys and girls were in training to charge American machine gun nests with sharpened bamboo spears. Don't kid yourself... they would have done it. And Allied troops would have had no choice but to mow them down by the tens, if not hundreds of thousands.
8. There was a slogan popular in Japan in the closing months of the war; "One hundred million heartbeats. One death". Hmmm, what did they mean by that? National Hari-Kiri or a National Fight To The Death.... or both?
9. If "the war was already over and Japan was ready to surrender" as the revisionists tell us... why did it take TWO atomic bombs to make Japan surrender?
10. Many within The Church point to #2314 of the CCC; "
Every act of war directed to the indiscriminate destruction of whole cities or vast areas with their inhabitants is a crime against God and man, which merits firm and unequivocal condemnation."[109] A danger of modern warfare is that it provides the opportunity to those who possess modern scientific weapons especially atomic, biological, or chemical weapons - to commit such crimes."
Notice the word "indiscriminate"? Taking out a valid military target is far from indiscriminate.
So, it's a fact that we killed 180,000 Japanese in the atomic bombings of Japan. Here's one I have for the revisionists.... would they have been happy if more than 2,000,000 Allied Servicemen died, along with most of the Japanese people?