Ohhh... Ya Just Gotta Love That Objective Mainstream Media!
So objective, so fair

I'm sure you'll notice the descriptive phrases just as quickly as I did. Here's some of the report from
the AP
;
Report: Kennedy barred from communion by bishop


By RAY HENRY, Associated Press Writer



PROVIDENCE, R.I. – Roman Catholic Bishop Thomas Tobin has banned Rep. Patrick Kennedy from receiving Communion, the central sacrament of the church, in Rhode Island because of the congressman's support for abortion rights, Kennedy said in a newspaper interview published Sunday.

The decision by the outspoken prelate, reported on The Providence Journal's Web site, significantly escalates a bitter dispute between Tobin, an ultra orthodox bishop, and Kennedy, a son of the nation's most famous Roman Catholic family.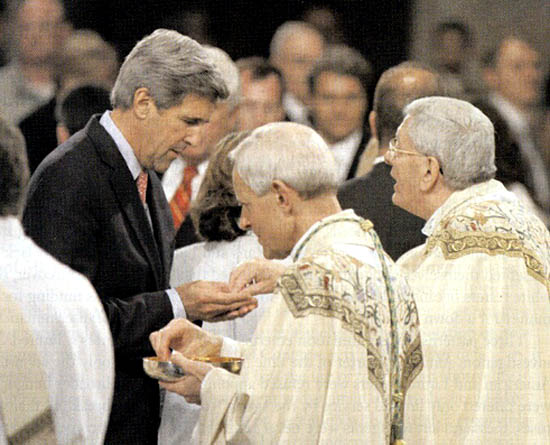 Don't fret, Paddy Boy. Just head back down to DC and take a dip in the Wuerl-pool. He has no problem administering The Holy Eucharist to baby-killers such as yourself, despite what the official teaching of the Catholic Church is.
Or as Donald Schmuck
himself says
-
"the Church just didn't use Communion" as a "weapon."
Just look up "Moral Coward" in the dictionary, I'm sure you'll see a picture of Archpresider Wuerl next to it.
____________________________________________
UPDATE!
I've just read somewhere (sorry, can't recall) that Bishop Tobin hasn't denied Holy Communion to Patrick Kennedy
just within
the Diocese of Providence, RI... but throughout all of Christendom.
It's up to his brother bishops to back him up. Fat chance.
"Bishop against bishop" -
Our Lady of Akita, 1973.