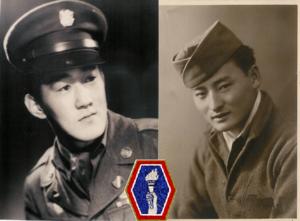 "Go For Broke"

Battle cry of the 100th Battalion/442 Regimental Combat Team
There's an uncomfortable and
ever growing list
of moselms who are/were members of the US Armed Forces who have decided to go all jihaad and attack, maim, wound and murder their fellow servicemen.
But don't dare call it terrorism.
Anyhow, I'm sure many of you are familiar with the 100 Bn/442 RCT, otherwise known as the "Go For Broke" unit of World War II fame. By the war's end, the 442nd was the most decorated unit in U.S. military history
for its size and length of service
.
And they were made up almost entirely of Americans of Japanese ancestry ("AJA's" as they were officially known at the time). Even though many of these men had family members who were in Interment Camps, these same men fought to prove their loyalty to the United States of America.
They fought to the tune of 1 Medal of Honor, 52 Distinguished Service Crosses, 560 Silver Stars, 28 Oak Leaf Clusters to the Silver Star, 4,000 Bronze Stars and 1,200 Oak Leaf Clusters to the Bronze Star, 9,486 Purple Hearts, as well as 8 Presidential Unit Citations.
The Nisei fought for their nation, and earned respect as well as an unbelievably high number of decorations for personal heroism.
What do the moslems have to show for their time in service? A body count.