In Defense Of The Novus Ordo Missæ

Seriously...

No... this posting isn't about the liturgical and spiritual superiority of the Traditional Latin Mass over the Novus Ordo Missæ.
Nah, I've just been wondering as to why any Catholic with even a lick of common sense
and who takes their Catholicism seriously
would continue to attend a parish that conducts Mass, at a minimum, in a fashioned that is watered-down, simplistic, and in many a case, quite honestly... childish.
Now that was just at the minimum. How about at a maximum? Well, that's real easy... at a maximum, there is outright heresy involved in the celebration of the Novus Ordo Mass. Period.
I have a funny feeling right now that more than a few folks reading this are ready to have their heads explode in anger. No need for any cranial fulminations. If this post (or this blog in general) pisses you off that badly, the big white "X" button in the upper right hand is there for a reason. Believe me, my world simply will not fizzle-out of existence if someone is all that upset with me.
Really.
But for those who look upon this subject with even a modicum of objectivity, stick with me. If you disagree with me after reading this, then please... comment away.
Anyhow, I've posted
in the past
how the New Mass in and of itself is designed to be an instrument that must fluctuate, change, evolve... yes, even the word 'mutate' works.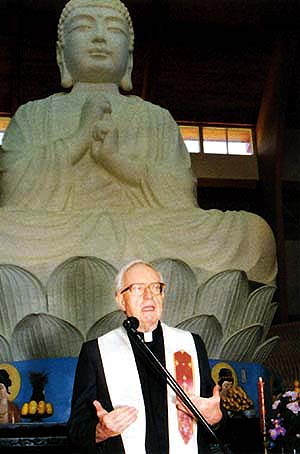 The New Mass runs the gamut from a serious attempt to be reverent and embracing a sense of the sacred (as best a Novus Ordo Mass could), to the outright
pagan/heretical
.
With all the ambiguities in the rubrics of such, it's quite simply, engineered that way. It's
made
to be the
Do-It-Yourself Mass
kit.
Anyhow, with all the conditional statements out of the way, why DO so many attend the Novus Ordo? That's real easy. We're programmed to think that way.
That's right, I said
programmed
.
How many times have we walked out of Mass with that nagging feeling that something wasn't 'quite right'? Or that we know deep-down inside that some of the things Father said in his sermon were objectionable, if not flat-out insulting to Christ and His Church?
Or even at it's worse... that we walk away from Mass with a feeling that we've done nothing more than ticked off another box in our to-do list? Instead of leaving Mass totally enveloped in a sense of awe, gratitude and spiritual peace... we've exited with nothing more than a shoulder shrug and a grunted
hmph
.
But we kept our mouths shut. We accepted it.
And why not? Western Culture has hammered into our collective brains that we're suppose to accept what's easy, simple, effortless. Anything that requires effort is strictly verboten. And let's be honest...
sacrifice
has become the longest four-letter word ever. And those that do accept hardships of any kind are usually sneered at and looked upon with a condescending disdain.
The Novus Ordo Catholic Mass has become almost indistinguishable from your average Protestant worship service. C'mon... how many times have we heard Protestants attending their first N.O. Mass and walk out saying things like "that was just like our service!"? And many
Catholics have been just a little too comfortable with that.
But that's what our culture has ingrained in us. Go with the flow. Don't put forth any effort. Obey your oh so subtle atheistic masters. Happily accept the big-assed, ugly and equally gaudy
Church Participation
trophy. You don't really have to
DO
anything... just be there.
Don't actually make a meal. That's what Domino's is for.
God forbid you have to
walk
a half-mile down the road. Drive your car.
Exercise and diet are for the stupid. That's why we have liposuction and pills.
Don't have the responsibility for raising children. Wrap a condom around it and call it
Social Awareness
.
It really is unnecessary to take God
that
serious. That's why we have the Novus Ordo.
________________________________
UPDATE!
I've received a couple of thought provoking comments so far (
TCM
and
Ingrid
). Both of them correctly point out that Christ is present in the Eucharist during the Novus Ordo Missæ. I've always maintained that the same.
Here's what I'm getting at -- besides the fact that a
side-by-side comparison
of the two liturgies clearly demonstrate how liturgically weaker the New Mass is, I'd like everyone to consider this; shouldn't there have been a seamless transition between the Traditional Latin Mass and the Novus Ordo back in the late 60's and early 70's? Of course... but that never happened.
The Church has been in an
veritable nose dive
ever since. There simply is no getting around that.
But why has The Church undergone such declines? Simple. The Novus Ordo doesn't expect anyone to take up their cross daily. That's much too painful and inconvenient.