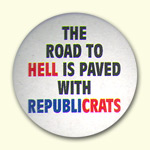 SCORECARDS HERE!

You Can't Tell The Players Without A Scorecard
Lemme make sure I have this straight ---
1. Former Bush Secretary of State Colin Powell (R-Sort Of) endorses Barack Obama (Marxist) for President.

2. Former Congressman Joe Scarborough (R?) delights Democrats everywhere when he states that the GOP is "too radical".

3. Rush Limbaugh (R) tells Colin Powell (R-Sort Of) that he might as well become a Democrat.

4. Darling of the McCain campaign, Joe Lieberman (D-I-Who The Hell Knows), tells former Vice President Dick Cheney (R) that his claims that Obama (M) has made the country less safe are groundless.
It's time for another Reagan Revolution.