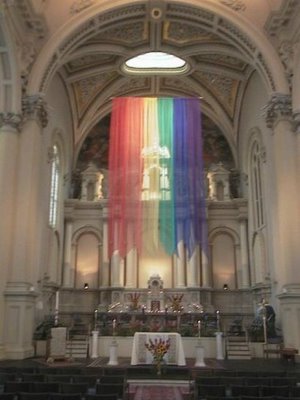 *Sigh* This Isn't Just A Weird Coincidence
...But a direct link to what Our Lady of Akita warned us of

Warning! Harsh language alert.

What a pathetic destination we've arrived at. Here's some of the article from
USA Today
; (emphasis and comments mine)
States with more Catholics more favor gay rights



Want to predict which state might move next to legalize same-sex marriage? You might count Catholics. The higher their percentage of the population, the more likely the state is to... support gay rights. (When

roughly 2/3ds

of the USCCB protect homosexual rapists, what do you expect?)



This counter-intuitive finding is brought to you with a tip of two hats -- mine to Mark Silk at

Spiritual Politics

and his to Robbie Jones who led Silk to a new study soon by be published by two Columbia University political scientists.

Silk, who heads the Leonard E. Greenberg Center for the Study of Religion in Public Life at Trinity College, mashed their study with the latest statistics from the 2008 American Religious Identification Survey, which was published at Trinity. His finding:



Six of the eight states where 50 percent or more of the public supports gay marriage are the states with the highest proportion of Catholics, ranging from Rhode Island at 46 percent to New York and California at 37 percent. (More often than not, these are the same places "Catholics" continually vote hand over fist for the likes of any Kennedy, Nancy Pelosi, Below Average Joe Biden, Charlie Rangel, and the rest of the Unborn Baby Goon Squad. And where are the courageous shepherds? Probably at one of their fundraisers or some horseshit testimonial dinner where the anti-Catholic "Catholic" is the guest of honor.)




Silk tosses a dig, "way to go, Bishops!" but is that a fair shot?

(You're damn right it's a fair shot. The Dictatorship of Relativism is not only coming back to haunt them, but biting them dead on the ass. Good.)



The bishops have campaigned long, loudly and clearly against same-sex marriage

(Bullshit) but the Catholic Church also offers a pervasive message of social justice, an umbrella many liberal Catholics stand under when they argue for marriage equality or life issues such as abortion, contraception and end-of-life decisions (Double bullshit).
I really like that quote
Dymphna
has on her blog;
If the priest is a saint, his people will be holy. If the priest is holy, his people will be good. If the priest is good, his people will be fair. If the priest is fair, his people will be mediocre. If the priest is mediocre, his people will be bad.