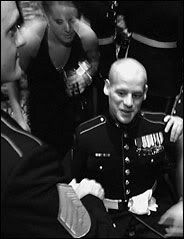 Double Amputee Marine And Wife Mugged Outside Restaurant
Are you sure we can't bring back public executions?
Hat Tip to my good goomba
Cerberus
HARSH LANGUAGE ALERT!! If coarse language offends you, I suggest you pass on going to Cerberus' site. Cerbie's about as subtle as a napalm run... and he's uber-pissed over this story. Can't say that I blame him.

A U.S. Marine who lost an arm and a leg
in Iraq was recently mugged and robbed outside a restaurant in Bethesda, Md.

Lance Cpl. Mark Beyers, of western New York, was mugged and robbed outside a restaurant after dining out with his wife, Denise. He was in Maryland while finishing up rehabilitation at the Walter Reed Army Medical Center.

As they left the restaurant, five men approached them and asked for a cigarette. Denise Beyers told The Buffalo News they gave the men a cigarette -- but the men grabbed her purse, kicked her and knocked the couple to the ground.

The thieves made off with $500 just wired to them by a relative.

Mark Beyers expects to be back home in the Buffalo area this weekend. His family is planning a fundraising benefit for him on Aug. 12.
It took five of these punks to take on a double amputee? Well... he
IS
a Marine, after all.