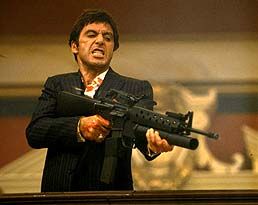 Say Hello.... To My Lil' Meme!
All I have in dis world is my blog, an' my website, an' I don' chut 'em down for no one, chu unde'stan?
OK, I'm jumping on the "Meme" bandwagon. Hey, what's "meme" sort for, anyways? But I digress. I hereby tag JoeD, Peter Q, Franklin, Fidei Defensor, Guafridus, Tito and Scarlette. And anyone else who would care to jump in!
OK guys, make your three choices!
If I could...
Preach just one sermon, it would be about;
a. How Catholicism desperatly needs The Traditional Latin Mass back.
b. I don't care what Bishop Ifeelyourpain, Father Limpwrist, or Sister Mary Liberated says... get your ass in the Confessional before Taking Holy Communion!
c. Take my word for it. There really was a Catholic Church before 1962.
I would have _____ declared a Feast Day.
a. The Marine Corps Birthday.
b. John Wayne's Birthday
c. My Birthday
I would change the Popemobile to;
a. A Super Cobra Attack Helicopter with a loudspeaker underneath playing Wagners "
Ride of the Valkyrie
".
b. The Budweiser Beerwagon (well he
IS
German, you know)
c. The shoulders of Notre Dame football players, like they did in the movie "
Rudy
".
The Swiss Guard could be best utilized by;
a. Lightning swift late night raids on American seminaries, and then cleansing them with fire.
b. Invading militantly anti-Catholic heathen nations, like Holland and France.
c. Being extras in Mel Gibson's latests epic that takes place in 6th Century Zurich and uses only the ancient Romansh language.
Roger "The Dodger" Mahoney's replacment will choose _______ as his official motto.
a. Welcome to the Archdiocese of Los Angeles. Sodomite free since... when was I installed?
b. The Beatings Will Continue Until The Theology Improves.
c. Well, at least I'm not in Boston.