Two... Two... Two Posts In One

Where exactly are these train wrecks heading?

PART ONE
A picture's worth a thousand words. Let's actually stop and think about the consequences of the below listed pictures. Awww... what the hell. I'll go ahead and tell you what the logical results are going to be.
Bonzo initially looked cute when handed this firearm, but it's all fun and games until a full magazine gets emptied into a crowd of dumbshits who find morbid fascination at staring at a chimp with a loaded handgun.
Oh yeah... wedded bliss if I ever saw it. Miss Modesty 2008 and her Meal-Ticket-To-Be most definitely will grow old together. If you consider 5 weeks growing old together. "Till death do us part, or until I grow bored with you. Whichever comes first."
*Shudder*
'Nuff said.
PART TWO
OK, fellow Bloglodytes. I've given three different examples where one doesn't need to be a Nostradumbass to figure out what the logical sequence of events is going to be.
So with that said, why in the hell is it that
Joey Hairplugs
get caught with telling
14 Lies during the Vice Presidential Debate
, but somehow in the eyes of the voting public, he's the winner?
Why do I get the funny feeling that the parents of America aren't all that different from the parents of Hamlin?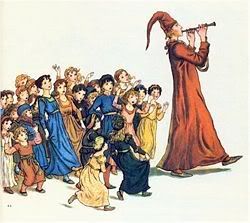 The Pied Piper of Scranton-Wilmington-Washington-Wherethehellever