Ya Mean THESE Kinds Of 'Justice-Seeking And Progressive' Moslems?
And I'm still trying to locate the Yeti

How many times have we heard of those elusive justice-seeking and progressive moslems? Even The Zero referred to this crypto-species in his latest bit of BS foisted upon the American public and the world;

...the "vast majority of Muslims who reject al-Qaeda" to realise that terrorism offers "nothing except a bankrupt vision of misery and death - including the murder of fellow Muslims - while the United States stands with those who seek justice and progress".
Could this be an example of the progressive moslems DingleBarry's talking about? Considering the boatloads of casdh we've thrown at the Egyptian government the past few decades, one would think these are the "progressives" we've been hearing about (under both Republican and Democrat administartions).
Here's some of the article from
CNA
; (Emphasis mine)
Coptic Christians clash with police after Christmas Mass shootings in Egypt

Luxor, Egypt, Jan 8, 2010 / 04:06 am (CNA).- The killing of seven in a drive-by shooting that targeted Egyptian Coptic Christians leaving a Christmas Eve midnight Mass has triggered clashes with police during a funeral procession for the victims.

The shooting took place in the town of Nag Hamadi, 40 miles from the large southern Egyptian city of Luxor, on Jan. 5, which is Christmas Eve in the Coptic calendar. Three men sprayed automatic gunfire into a church crowd.

Police have identified the lead attacker, a known criminal. Security has been strengthened in the town and checkpoints are in place on roads to ease fears of more attacks.

The shootings added to Copts' grievances, which the Telegraph says include charges of increasing harassment, prejudice in acquiring government jobs, and police failure to investigate attacks on Christian property.

At the beginning of the swine flu H1N1 pandemic last year, the Egyptian government ordered the slaughter of thousands of pigs farmed by Copts in Cairo. Farmers saw the culling as an attack on their freedoms, as most Egyptians are Muslims who view pork as unclean.

In November, massive mobs of Muslims attacked Coptic Christians and their businesses in the Egyptian town of Farshoot 300 miles south of Cairo. The mobs' looting, vandalism and arson caused at least $1 million in damage and forced Copts to hide indoors for fear of their lives.

The Copts are descended from Egyptian converts to Christianity in the first century A.D.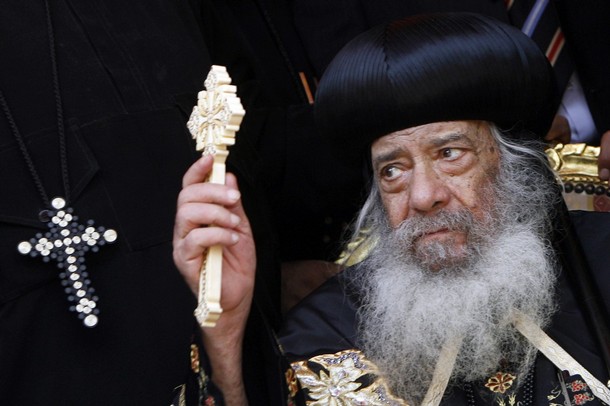 There are roughly 6 million Christians in Egypt (10% of the population). Of that number, the overwhelming majority are Orthodox Copts (separated from Rome), while 200,000 Egyptians are members of the Coptic Catholic Church (Alexandrian Patriarchy).
All Catholic Rites combines, there are roughly a quarter of a million Catholics in Egypt.